By Piera Ramljak and Joanne Goodman, University of Strathclyde psychology students 
With World Mental Health Day (10 Oct.) just behind us, it is important to discuss the impact of image alterations and editing apps on mental wellbeing. With technology that erases all of your insecurities and creates the ideal but false image of you, it seems like everyone is more attractive, successful or simply just living a better life than you are. Apps like Facetune make it look as if everyone has a slim waist, plump lips and a blemish-free face.
But how can this make anyone feel content in their own skin? Exposure to manipulated images has been shown to induce lower body image, especially among teenage girls who were more prone to social comparisons. See the study here.
Jess Mcfaddden, 21, a fourth-year student at the University of Glasgow, says: "Everybody looks the same on Instagram. I'll take a million pictures before deciding which one to post. And even after using the skin-smoothing tool, and making my legs look longer, I still feel anxious after uploading it.'
Retouched images can lead to anxiety and mood changes
With such a contrast between individuals' private and public selves, there is a growing dysmorphia and psychological discomfort that arises as a result. A study in 2018 revealed that women reported higher anxiety, lower mood and less confidence in a situation where they had to upload an unedited "selfie". This shows a clear change in psychological state as a direct result of the inability to retouch a photo. And if you think that retaking and retouching those selfies led to better outcomes, think again. Even the retouched selfies led women to experience the same harmful effects.
There are real-life clinical implications of research like this, in the field of mood, anxiety and eating disorders, making it incredibly important to open up a discussion concerning mental health and false impressions on social media.
Click here to read the article.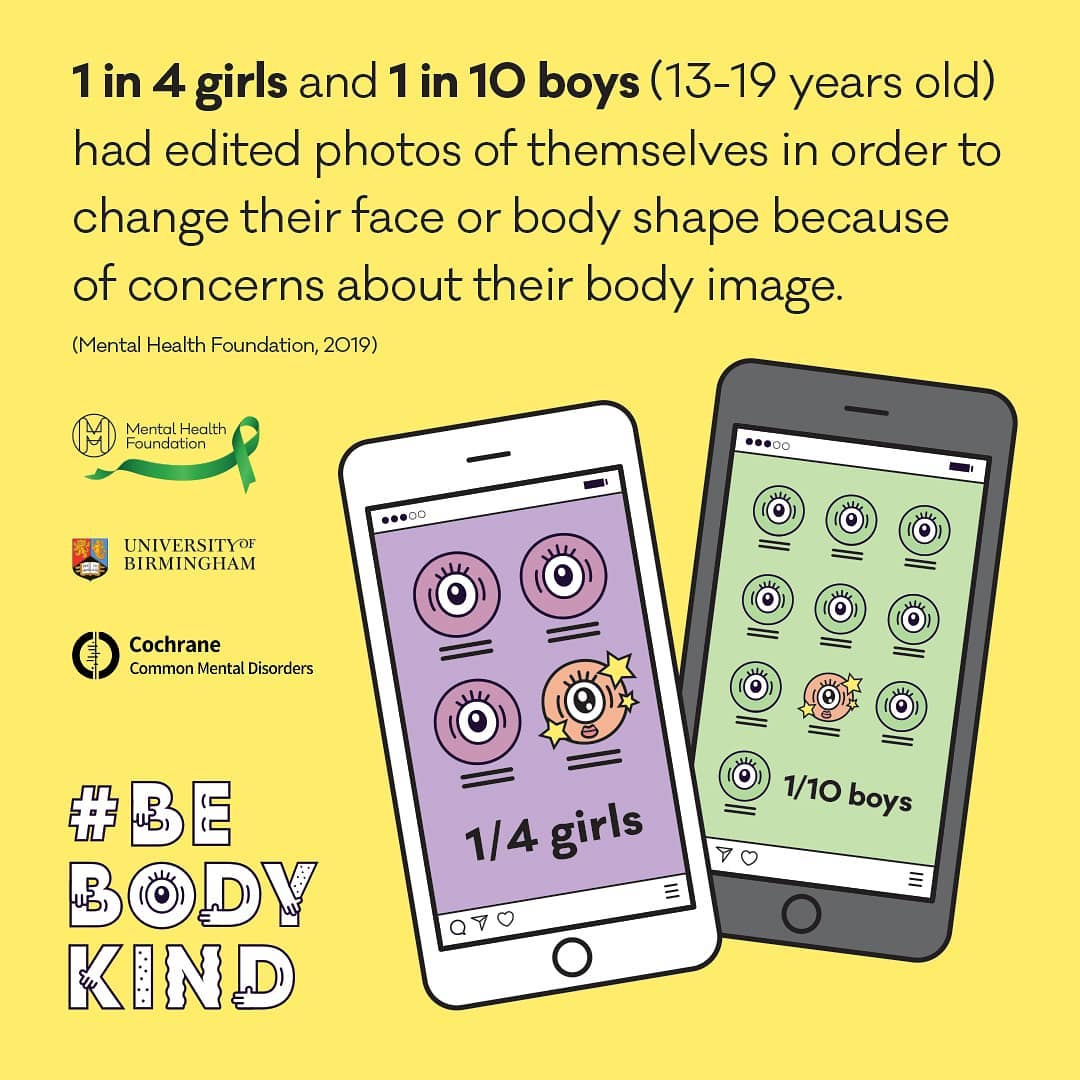 But what can be done to protect the mental health of young people using social media?
The targeting of increasingly younger social media users by app companies is becoming increasingly worrying, with one in four girls and one in 10 boys aged 13-19 altering their faces or body shape due to body image concerns, according to a UK-wide survey by the Mental Health Foundation.
The Foundation, Cochrane Common Mental Disorders Group and the University of Birmingham are addressing this by fighting for age restrictions in image-editing applications in a recent briefing on reducing the influence of commercialism on health. The briefing was a result of a rapid evidence review and a round-table discussion between 24 experts in the field. See the MHF post here.
Maddy Brown, 16, a secondary school pupil from Glasgow explains: "Whenever I'm having a confident day, the second I go on my phone I'm faced with hundreds of perfect influencers on Instagram and TikTok and I start to feel worse about myself. It's affecting people even younger than me now too."
The briefing proposed the following six actions:
Engage with the #EverydayLookism campaign.
For Google Play and App Store, update their guidelines for developers to explicitly include "mental health" in the range of harms that are unacceptable.
For Google Play and App Store, make it mandatory that all body and face image-editing apps are rated as PEGI 12/16 and 13+ respectively, to ensure that children and young people who are below the legal age for having a social media account (13 years old) are not using these apps. Restrict all in-app purchases for additional features to people over the age of 18 to limit predatory promotion.
Focus research on understanding the features of image-editing apps that are most harmful to body satisfaction and mental health.
Develop new social media literacy training for children and young people, which is coproduced with young people, parents and carers.
Complain to the Advertising Standards Authority if you see an advert in a magazine, on television or online that you think presents an unhealthy body image as aspirational.
It is imperative that we fight for the mental health of young people and recognise the impact that social media and editing apps have on their body image. Read more about the MHF briefing here.